A GUIDE TO INDEPENDENT VENUES WEEK
WE CELEBRATE NORTHAMPTON'S FINEST INDEPENDENT VENUES
Independent Venues Week supports the grassroots of music, its local venues and its artists. It is a growing community that is an advocate for fair pay to musicians. Through a week dedicated to paid gigs aimed at showcasing the particular venue at its best. All things we are passionate about here at NMC. What better way to kick off 2020 and the revival of the gig schedule, after a dwindling post-christmas chill than a celebration of Northampton's Independent Venues?
THE BLACK PRINCE | ABINGTON SQUARE
With Phil Moore now in charge of bookings  at  the Black Prince, the pub is fast becoming  synonymous with live and local music. Transforming the pub back into its former glory as a music venue. Independent  venue week will see 5 gigs in just 7 days. Showcasing the best there is to offer from Northampton and its surrounding areas.  The highlights have to be No Musics arty post-punk, velvety psychedelia from King Purple, blues from The Ramblin' Preachers and last but not least the experimental synth driven Working Men's Club. What a week. After you can swap your Dockers for your slippers, give yourself a pat on the back and put the kettle on.
Monday:
ROAM | Superlove | Crawlspaces | Slow Burn  
Thursday:
King Purple | Naked Nextdoor | Keepers | Rolling Thunder
Wednesday:
SPQR | No Music | Skyflood | Jeana
Saturday:
Working Men's Club | The Anteloids | Baby Lung
Sunday:
Ramblin' Preachers| Earbones| The Bophins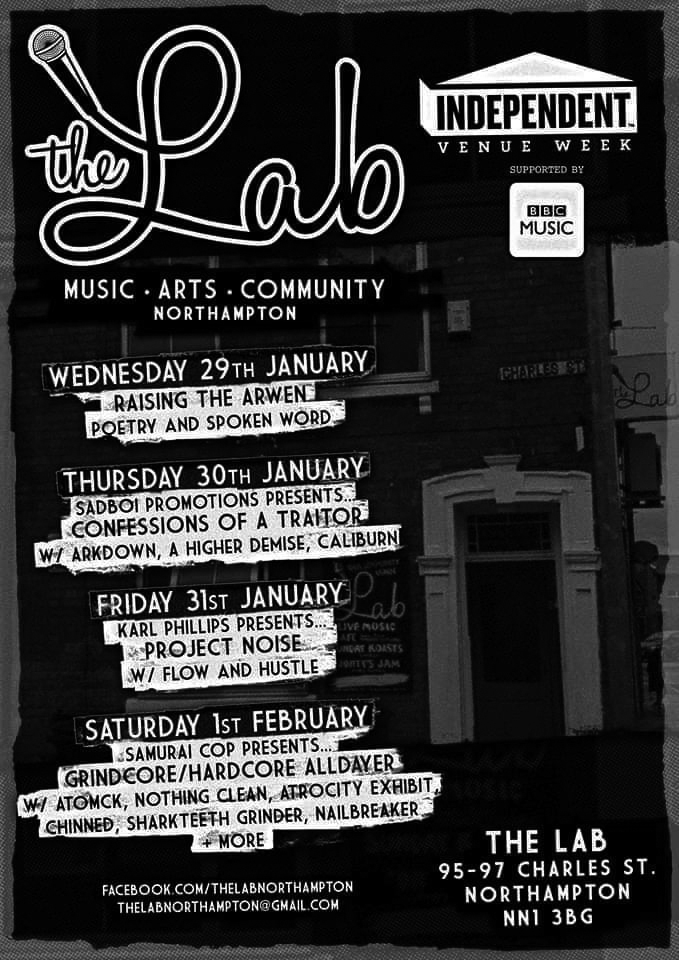 THE LAB | EARL STREET
Northampton's iconic hub of homebrewed musical talent, The Lab, survived crisis point last year. Since then its been full sail ahead. To battle the storm that rips through the high street, with small, independent businesses, the collateral in its wake. Surviving to play host to another Independent Venues Week, events manager Karl Phillips has held no bars, with a variety of acts, aimed to shed focus on The Labs eclectic mix of musicians and other artists. Wednesday sees the Bard Paul Giffney present an evening of spoken word and poetry. Thursday sees a variety of rock acts that included Shoetown favourites Caliburn. Friday, is a mixed rock/indie night. Saturday will see the ultimate heavy-core night on Saturday,with some of the biggest players in Northamptonshire, all under one roof.
Wednesday:
Raising The Arwen: Poetry + Spoken Word with the Bard
Friday:
Project Noise | Flow & Hustle | Damfino | Gaylips
Thursday:
Confessions of A Traitor | A Higher Demise | CALIBURN
Saturday:
Atomck | Nothing Clean | Atrocity Exhibit | Chinned | Sharkteeth Grinder | Nailbreaker
ROADMENDER | LADY'S LANE
Roadmender, Northampton's large capacity  venue has attracted some big names to the town in recent months, and Independent Venue week was no exception, showcasing legendary artists including Ronnie Size. Local Billy Lockett headlined the mainroom for the first time despite his international success in the states after appearing on James Corden's late late show last  year. He was supported by Cousin Avi's singer Francisco. Unfortunately Sunday's gig which would have seen stellar line up including  The Barratts, The Keepers, Garden and century city and Candidates was cancelled due to interest/presales supporting the IVW hegemony of Use it or Lose it.
Friday:
Billy Lockett + Francesco
Sunday:
The Barratts | Candidates | Century City | Garden | The Keepers
Saturday:
Ronnie Size + LTJ Bukum