FRESHLY SQUEEZED: FEBRUARY
PHIL MOORE RUNS YOU THROUGH FEBRUARY'S NEW RELEASES
Empyre 'My Bad'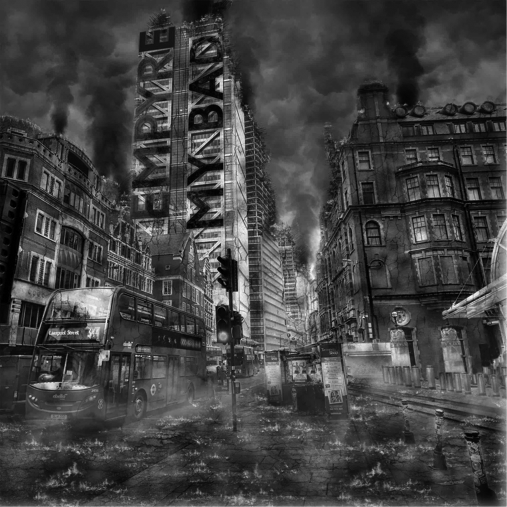 The hard rockers ratchet up their proggy tendencies on this ballad, the final single from their well-received 'Self-Aware' album. The feel is akin to Queensryche meets Alter Bridge, with some slick Chris Cornell-style vocals from Henrik Steenholdt giving it serious gravitas. If you like your rock sound to be American-flavoured, and with plenty of light and shade, then you've come to the right party here.
Dreadz 'This Wave'
Afro-dancehall is a bit of hidden scene in Northampton, and here's the first of two artists keeping it alive. Slim beats that keep themselves in the background help propel Dreadz vocoder-ed vocals even more forward. His voice is seductive as they come, with philosophical lyrics to take you into your zen-like comfort space. They could prescribe Dreadz on the NHS, you know.
Hana Brooks 'Don't Say A Word'
Behind the scene Brooks has been questioning choices in her fledgling music career. Is it worth all the pain? After a short break to realign she's back with this absolute stunner. Thank the Lord she didn't jack it in. Back living in the Shire now, let's collectively grasp her to our bosom. It's a little trite to call here "the female Billy Lockett", but she shares with that fellow ShoeTowner the ability to turn melancholy moods into beautiful moments to cherish. A bona fide star is born. Watch her fly.
Garden 'Love Me To Death'
After a reshuffle within their ranks the moody indie rockers return with this rather unexpected left-turn. It glides by on a faintly Indian riff and minimal backing, but then goes the other way and gets very intense. It's very modern sounding, channeling The 1975 at times. The lyrics, about being loved but no longer willing to reciprocate, are worth a moment to decipher too. A comeback to savour, the future is blindingly bright if the promised new stuff is as strong as this.
FFSYTHO 'You Next'
There's no denying that 2020 is a big year for NN rap, as people all over the globe search for more of that 'Northampton sound'. Someone making big waves is this sweary individual. With personality to spare, the rage and venom in her delivery are unmistakable. If anger is an energy then FFSYTHO could solve the fossil fuel crisis in a heartbeat. "Don't make me write about you next", she warns over spindly grime beats. Good advice.
Phantom Isle 'I 'm Urs'
Despite the obvious tragedy behind the PI story of 2019, where bassist Matt Marchant passed away just as they took some great strides forward, they've managed to keep true to their vision of uplifting, slightlydelic pop bangers. Singer Peter Marchant has a great voice and bags of ideas tumbling out of every orifice, and a nagging way with killer hook in each chorus. Guys; we are yours, now and forever.
Joe Miles 'Change Your Mind'
Singer-songwriter Miles is back from his self-imposed break with this bittersweet song of lost love. The production is his best yet; multi-layered sounds all painting a broader picture than the simple man-with-guitar. The vocals sound huge, and his jazz background is revealed with the trumpet solo. Good to have you back, dude.
DeBe 'Nuffin Long'
'The Life Of Reilly' is the debut EP from rapper DeBe, and it includes this heavy monster. His delivery is uncompromising, his attacks on HMRC timely for anyone doing their tax returns [er, that'll be me]. Some dramatic synth patterns gives it a flavour that any slowthai fan would appreciate. Early days for him, and based on this the next stage will be fascinating.
Wishing Wolf 'Still Searching'
They put out a peach of an album out in 2019, but the Kettering emo types haven't sat on their laurels, and instead kicked off this year with a brand new track. It's breakneck speed and pounding rhythm makes you think it will be a live favourite from the off. Some lovely production values of the vocals raise its above the competition. Why they aren't better known is a total mystery to me. Listen in, and tell your pop-punk loving mates to do likewise.
Hamzysho 'My Drive [Intro]'
19 year-old rapper, the one dubbed 'Young Genius', has taken some hints from idols like J Hus and worked with some talented producer friends on his confident 'State Of Mind' EP. This song is a tale of a tough teenage life, with hopes to head in better directions. The EP has a few different sounds on it, it's something to lose yourself in: all thick with atmosphere though, and quite cinematic in places. One to watch this year.
Manners x Prezkino 'No Cap'
The second person to mention is dancehall-leaning Manners, whose building up a nice following now, and this collab with the new kid on the rap block. A tale of making money and avoiding trouble, and not giving in to hate, it's got a pretty neat piano line underpinning all its obvious charms. The video is swish too, check it out.