KAYA/UMBRELLA FAIR WORLD MUSIC WEEKENDER COMES TO NORTHAMPTON
Kaya Festival, in proud association with Umbrella Fair Organisation, is coming to the Racecourse Pavilion. The weekender is a celebration of world music and arts, breaking down the borders in art and bringing world music home to Northampton, with an ethos of diversity, community and family
The weekend addresses what is world music in relation to the definitions of music, what is community and what the word diversity means to different people. With music from Reggae to Rock; from Ska to Soul; from Funk to a little Funky House; from Africa to local talent, with everything in between. The Kaya Weekend will be showcasing some of the finest talent in Northampton.
The weekend begins on Saturday 24th August with International Women's Day, celebrating women in the arts, with female artists and DJs. Sunday is International World Music Day, with a variety of different acts, featuring artists playing a fusion of world music from Funk, Spoken Word, Reggae, Latin, Africa High life, Afro Beat, Dub and Indian Fusion with performances throughout the day. The weekend comes to a close on Monday, with International Umbrella Fair Day. Free to attend, the day is a community day, with a community jam for local artists. This year the festival will be showcasing the best of Northampton Unsigned and also has a Northampton Jam Session, with musicians from the town performing a variety of genres from Hip Hop Grime, Indie to blues.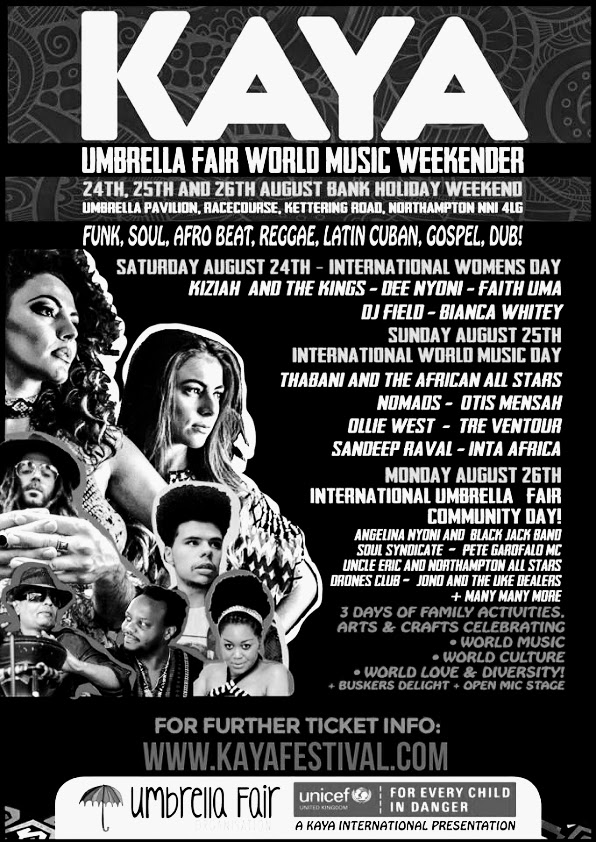 There will be plenty of children's activities, arts and crafts and workshops for the whole family including, African Drumming and dance workshops, kids puppet performances, Storytelling, a Bouncy Castle and a play area, creative arts workshops, family fitness fun workshops, yoga and wellbeing classes, a buskers delight feature and an acoustic stage, and family fun karaoke. There will also be a youth competition, the Best of Northampton Unsigned will be showcasing several young artists from Northampton, performing on the main stage with a competition for one of the slots.
Kaya Festival have been avid supporters of Hope Malawi UK and Youth Cymru. In partnership with Youth Cymru, Kaya championed young people with their very own Kaya Youth Zone – Kaya Introducing Stage, provides a platform for young musicians to perform and showcase their work. Kaya Umbrella Fair World Music Weekender will be fundraising for Unicef Yemen Crisis and the Umbrella Fair Organisation charity, plus there will be donations being made to Cynthia Spencer Hospice, a local Northampton charity, in recognition of Tony Barford, a local musician who recently passed away with cancer. There will only be vegan food sold at the event.
Head over to kayafestvial.com to get your early bird tickets, to save money and disappointment.
LOCATION
Umbrella Pavilion, Racecourse, Kettering Road, Northampton, NN1 4LG