The Big Dirty | Aidan Hatfield  | Crawlspaces | Torus
To see in the Halloween weekend, The Black Prince held The 'Creep It Real' Halloween party, headlined by local N'Town rockers, The Big Dirty, with supported from MK trio Torus, five-piece pop emo punk band, Crawlspaces all made the effort to dress up and really looked the part, frontman Sam Morrison in a £1 shop scream mask as the fancy dress shut before he could collect his outfit, alongside a Dracula and a zombie rocker. An energetic performance that involved the audience, they performed their  original emo-pop material intertwined with some classic covers that had everyone singing along. Next up was Singer/songwriter Aidan Hatfield bringing his alt-rock ensemble down from Leeds. He began with a solo acoustic set before introducing his band causing a slight interruption to the tempo of the evening but was entertaining nonetheless. Aidan is behind the venture, In Music We Trust, raising money for mental health charities through music and the sale of merchandise for artists. Big sound + dirty riffs = The Big Dirty. If you have not yet seen them yet, do! Reinventing hair, glam rock and roll with their new concept sex rock, The Big Dirty are the full metal jacket. They have a massive stage presence from their sound of meaty riffs and libidinous themes, the  Outfits with  leopard spandex, leather trousers, makeup that would put Gene Simmons to shame, complete with a whiskey cannon firing at the audience and a topless drummer with profanities scrawled across his chest. They need to be seen to be believed so get down there when you next get the chance.
Marabar Caves | Rolling Thunder | Tony Mead
The Pomfret Arms played host to headliners Marabar Caves, a psychedelic rock outfit who have reformed after a 25 hiatus. Support came from The Vincent Vega Band's Tony Mead, opening the night with a solo acoustic set, of the folk-storytellers material. It was an ethereal atmosphere to welcome one in from the rain in time for Rolling Thunder. Rolling Thunder brought their infectious indie anthems pulling off yet another energetic performance to a packed out barn. It has been a busy month for Rolling Thunder. The boys played at the Picturedrome the next day, in support of the Total Stone Roses and I saw them the week after in support of Camens at The Black Prince alongside Skyflood. Marabar Caves were there to show everyone how it's done. Those who left early missed out immensely with the prize going to those hardy fans who stuck around. They performed some old classics from back in the day,  each with that authentic vintage sound, as well as some new material.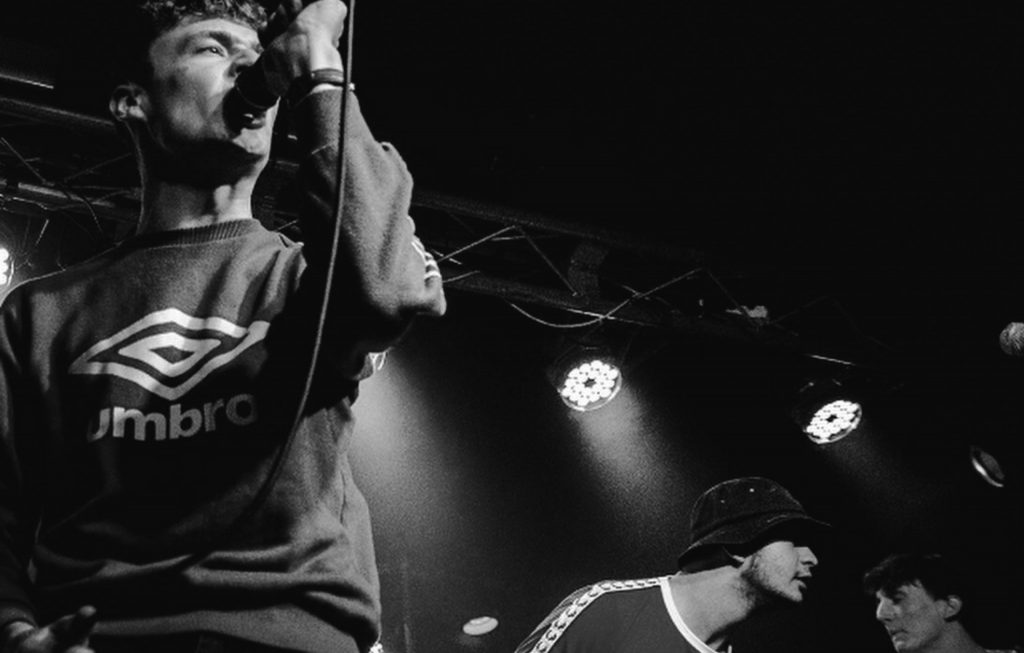 Camens | Rolling Thunder | Leisure Tank | Skyflood
First on the bill were Northants band, SkyFlood, with punchy choruses and emotional themes, SkyFlood mix together the indie scene of the late 90s and the 00s, with a style that blends several bands together resulting in a very unique piano-led alt-rock style. Multi-talented Frontman Craig swaps instruments throughout his set between the piano and an acoustic guitar to an interesting effect. Leisure Tank, were the highlight of the night. An indie rock power duo, they combine raw, minimalistic, analogue rock with unpredictable song structures and heavy, danceable grooves. KC and Bodi moved to London from Berlin to form the band in 2014 and have been rising through the ranks ever since. Local five-piece indie-rock band Rolling Thunder, were up next with their third performance in two weeks. Hailing from Stoke, headliners Camens, cite a string of mid-2000s guitar bands as influences that are easy to trace in throughout their music, with lyrics full of honest, colloquialism-tinged storytelling and more hooks than a fisherman's tackle box which has helped them reel in new fans everywhere they go. The band have performed at Redcar Rocks, Boardmasters, Latitude, Green Man and have securing support slots with The Sherlocks and Scouting For Girls, as well as, performing at Manchester's Etihad Stadium. Steve Lamacq, recently played the latest single 'Danny DeVito' on his BBC Radio 6 show back in July. They did not disappoint with a tight, professional performance that demonstrates the bands experience and motivated drive, all cut with that genial northern charm.
Skankdown Vol. 5 | The Lab
After the proceedings at The Black Prince I had just enough time to catch a bit of the fifth Skankdown at The Lab. In attendance, joining Karl Phillips & The Rejects this month were, The Notting Jam Orchestra (Nottingham), Dakka Skanks (Brighton) and Grant Sharkey (Southampton). I arrived to a maelstrom of skanking bodies with host Karl Phillips mid-set playing late into the evening with his band of rejects.
Hats off to the Blues | The Lab
The BluesTones, kicked off the evening with a cross-section of blues styles from original blues artists of the 50s and 60s. They arrange their sets to emphasise a steadily building rhythm that gains momentum throughout the set, warming the audience up beautifully with well orchestrated familiar favourites. Northampton's own Kian Russell was up next. The Sixteen year old, Blackstar Endorsed Artist brought his flavour of American Blues & Rock cut with a modern twist that contributes to form a uniform sound unique to his varied background. Kian was joined by temporary bassist Ollie Rumens ahead of his debut performance with The Comms the week after. Kian unfortunately had to cut his set short due to illness, much to the disappointment of the crowd who demanded more in the form of an instrument. Kian did not let his fans down and welcomed James, the frontman from Ramblin' Preachers to join him on stage.  After settling on a key the band progressed into a free-style jam that beguiled all who attended. The night was headlined by Ramblin' Preachers, an incendiary, Blues Rock Quartet from Milton Keynes adding a finishing flourish to a fine evening. The band's went round with a hat successfully raising money for The Lab.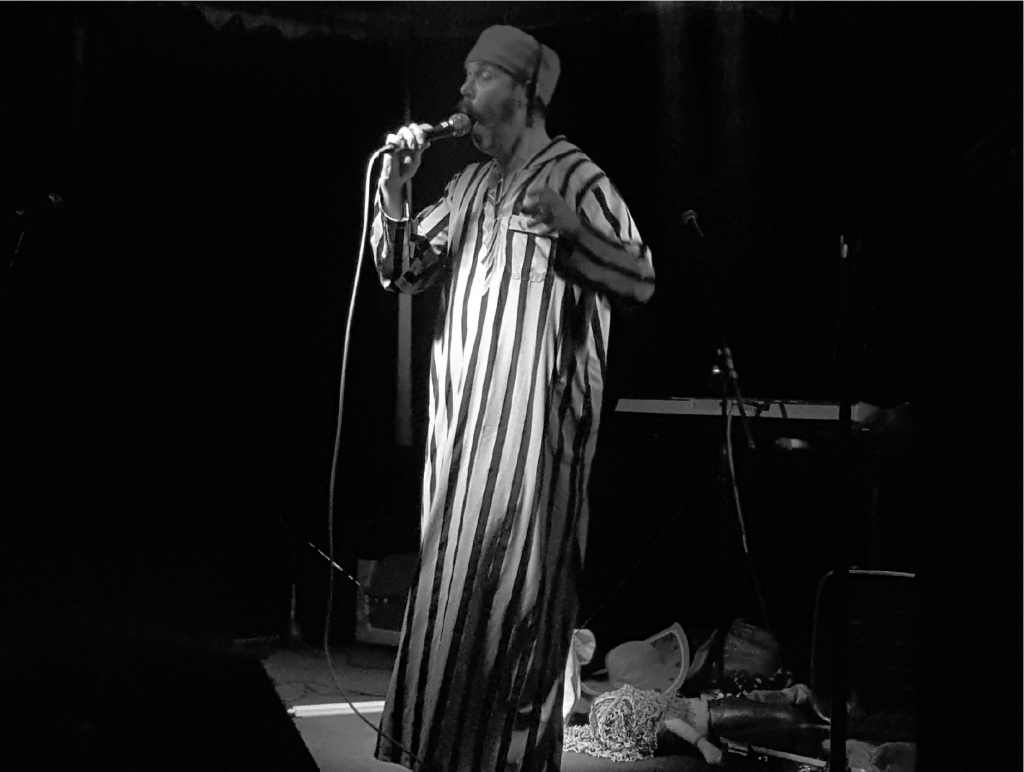 Mik Artistic |Aldous Pitch | The Lab
Regular visitors Mik Artistik's Ego Trip were back at The Lab for the 4th time. How do you describe 'Mik Artistik's Ego Trip? You simply can't but I'll do my best to sum up the live Ego Trip experience, though it really has to be witnessed first hand for you to 'get' it, as there's nothing quite like it. The three piece from Leeds should be on the national health and are a tonic in these troubled times. A mix between John Shuttleworth, John Cooper Clarke and Jake Thackray. Influenced by people like Reeves & Mortimer, Half Man Half Biscuit and The Fall with some funk style reprives, they are reminiscent of The Blockheads. Their mix of Rock 'n' Roll & dry West Yorkshire wit is unique. They were supported by one-man cabaret come ska-folk, come victorian music hall come spoken word ensemble, complete with fez. We were taken through the macabre Book of Ramblings by Aldous Pitch.  Self-proclaimed as "incorporating tales and other associated rubbish". With the charismatic story telling of Nick Cave and quirky theatrics of Tom Waits, it was something all together different and I really rather liked it.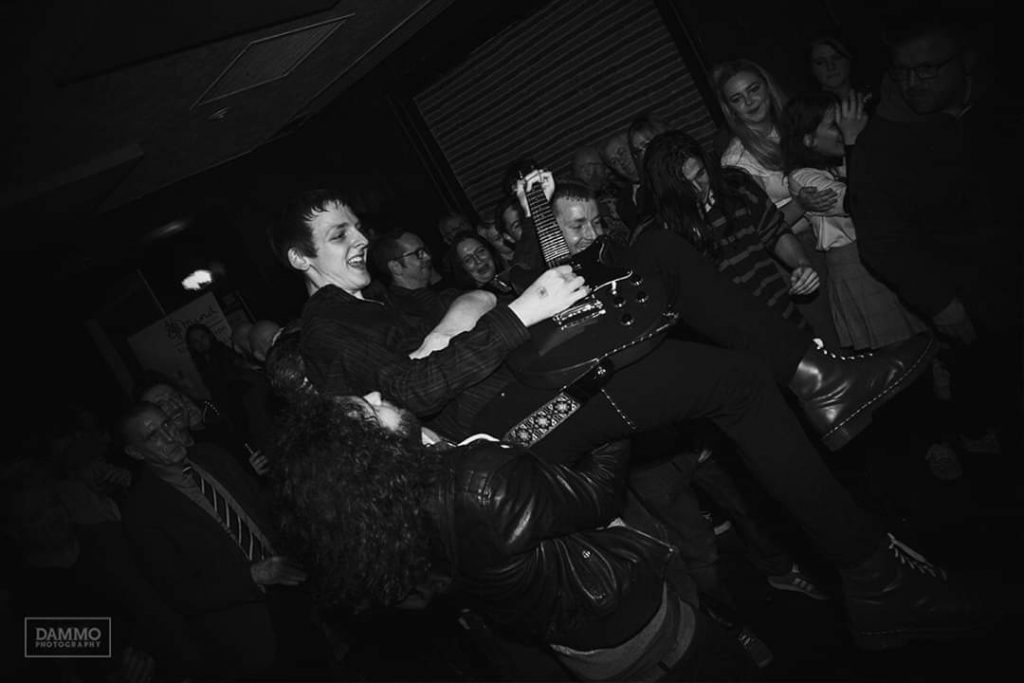 King of Hearts Festival | The Black Prince
The annual festival returns in memory of Robert King. On the bill this year were are a trio of brilliant acoustic acts, Duncan Bisatt Music, Keiron Farrow and Jack Vs Hotdog before Pieces, HYLL, EGO, Deaf Trap, The Comms and headliners The Jackal Nine. Jack vs Hotdog opened the festival before a politically poignant backdrop with placards reading "We're all in this together" and "Vote Just Do It!". Jack is a joy to behold with his dry humour and hotdog suit in tow. A highlight was an impromptu performance of Arctic Monkeys track, Do Me A Favour, joined by germanic Hyll. Duncan Bisatt was up next with a some firm acoustic favourites including The Capybara Love Song and continentally themed Uber Chic. Kieran Farrow drew a line under the acoustic part of the festival with an intimate performance, before Deaf Trap took to the stage. Deaf Trap warmed up the crowd stirring them into a raucous frenzy with a set full of local favourites including new single Face. EGO were next up, this time a three piece with the addition of a drummer. A forever passionate performance that saw frontman Sean raise the placard urging people to vote to the audience. Guitarist Philip continued to prove he has the shine, with an impressive finesse that stole the show. It was the debut performance for The Comms at this years festival. For those who are already familiar with the musical background of the members, their sound came as an unexpected surprise that was not unpleasant. Always the showman Liam cleared a pit and proceeded to play in the middle of a mosh before being crowd-surfed back to the stage, all whilst never ceasing to play. His antics earning him the accolade of a young Wilko Johnson, attributed to him by a fan who congratulated him at the bar. Hyll were on the bill visiting from Germany for the festival. It was not the first visit for the band being a regular favourite from the Twinfest weekenders. Pieces were the penultimate band of the night. They smashed it before headliners The Jackal Nine took to the stage before an eagerly anticipating audience. Returning after a 2 year hiatus in the summer The Jackal Nine were back headlining the Black Prince with a set list of their hits including Gruffalo and a cover of The Gorillaz track, Clint Eastwood, proving why they are disputably the best band in Northampton. The festival raised £1473.26 for Mind charity making a grand total of £4414.95 over the three years.