Add Your Heading Text Here
SPRIAL ARCHIVES IS TURNING 20
The record shop was opened in Northampton at the end of 1999, by Alex Novak (of Venus Fly Trap), as an alternative to the mainstream stores. It is one of the few independent record shops left in the area and can be found on St .Michaels Road, Northampton. Alex Novak spoke to Pete Dennis about the story so far.
About the reasoning to open the shop, Alex says, "Being involved in music, I built up a knowledge of that area. Having a general interest in music I learnt about labels and bands. Aside from performing music, I'm interested in listening to different stuff and I go to see live bands, so it's using that knowledge for something. I set up the first shop in 1999, in Wellington Street, Northampton. I think it's just that initial thought; you have the idea, you might as well try it and see what happens".
The secret to a successful 20 years for Alex, lies in "doing a lot of work and I also get events to tie in with the shop, so if I put a gig on, or I'm DJing, I'm always promoting the shop as well, so it's a constant promotion and, with the advent of Facebook, it's another tool to use to promote the shop. I think the two help each other: the shop promotes events and the events promote the shop, so it's quite symbiotic. I think you've got to do the leg work, there's no easy way around it".

Spiral Archive stocks something to suit every taste. Except Dance. "I don't stock dance stuff really, that's a genre on its own and obviously classical is a genre on its own but pretty much everything in between. There's a bit of everything really. I'd say it's eclectic but certain areas I don't specialise in". Spiral Archives is a haven for any music fan, down to the local, rabid collectors after a rare or valuable find. "It's usually psychedelic and progressive stuff that commands big money. I've never had it, but there's a local band called The Dark, whose first pressing of their first album was limited to 50 copies. You see later pressings but not the first and strangely they came from Northampton. The most valuable item, I guess was a mint copy of Black Sabbath's first album on the Vertigo swirl label. That commands a fair price".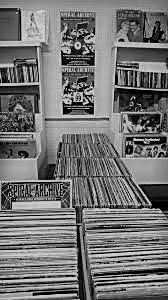 "I take posters and flyers from bands and venues, to me that's all part of it. The thing is in a lot of places, you'd have the flyers sitting on the side but, I tend to put them in people's bags so they take them home. I've also got a local band section and a local book section. I also stock local music books like Have Guitars…Will Travel" and bands such as The Keepers and Thee Telepaths.
Martin Bowes from Attrition, David J from Bauhaus, Neville Staples have visited the shop and touring bands usually pop in, like The Bees, The Temples and The Moons.
In speaking of the future of the shop and interest in vinyl, Alex says, "I think it's very much down to overheads; how expensive it is to rent a place. With record shops you need space so you need to find somewhere in or near to a town centre that gives you a chance. With rents at the moment it's hard to make things viable. Vinyl is not a massive market. People keep telling me it's comeback, it's certainly better than it was 10 years ago but it's a small market. Most new records that are released are limited to 500 or 1000 copies so it's not a massive market. It's more a niche market.