THE GREY DOG FESTIVAL COMES TO THE ROADMENDER
The Grey Dog Festival, the charity festival that puts young people's mental health at centre stage, returns to iconic Northampton venue, The Roadmender, this September. Featuring some well known local artists and musicians, as well as those more widely acclaimed
The Grey Dog Festival will be showcasing some of the finest talent in Northampton and all for a good cause. The one-day festival will be held on Saturday 21st September and will play host to live music, featuring a variety of different acts, including acoustic sets and artists from all genres throughout the day and into the evening. In addition there will be workshops with fun activities for all ages. It is a free festival, supported by the National Lottery and the Arts Council England, in order to raise awareness for the festival's cause.
The overall goal of the Grey Dog charity is to train its members to be mental health first aiders, and to gain training status, in order to be able to train teaching staff within schools. It strives for every school to have a mental health first aider, who is trained to spot the symptoms of a young person who might be in need, and equipped with the skills to be able to intervene and help at that crucial point.
The acts have all been  selected  not only for their musical ability but also the fact they are willing to talk openly to the audience about their own experience of living with mental illness, caring for someone with mental illness or are passionate about challenging the stigma and will share anecdotal and motivational segments as part of their sets, to open up the conversation surrounding mental health.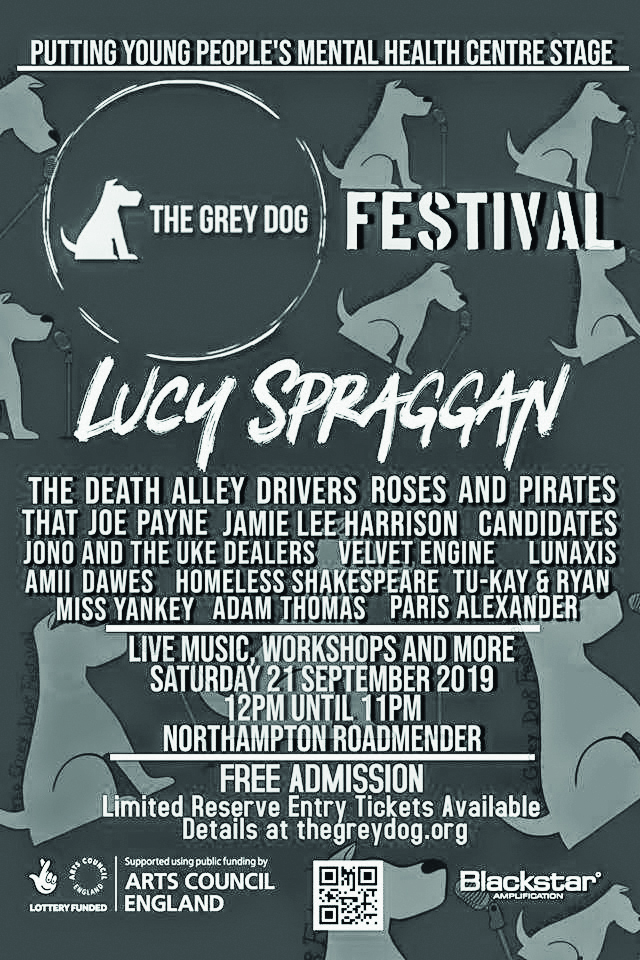 The acts confirmed for this years festival include local artists, musical collective The Death Alley Drivers, headed by Nathan Harris, acoustic duo Roses and Pirates, former The Enid member, That Joe Payne, mod-rock quartet Candidates, last gang in town Jono & The Uke Dealers,  Homeless Shakespeare and Tu-Kay and Ryan.  As well as nationally acclaimed headliner, Lucy Spraggon and Jamie Lee Harrison. The  doors will open from 12pm – 17:30 foregrounding the acoustic acts and the workshops during the day, before opening again from 6pm, where the bar will open and the main acts will begin.
With mental health as the central focus Poetry Prescribed will be in attendance, as well as yoga and mindfulness workshops and informative stalls focussed around communicating and dealing with the issues surrounding mental health. There will be activities for the whole family including facepainting and a visit from Minnie and Mickey mouse  Head over to thegreydog.org to find out more.