THE SUMMER OF 69':
ROGER KINSEY REMINISCES BACK TO THE CAMBRIDGE FREE FESTIVAL 50 YEARS ON
Roger Kinsey commemorates 50 years since the Cambridge Free Festival of 1969 and reminisces back to the halcyon days of musical chaos, including booking David Bowie for a May Ball
The Cambridge Free Festival was first held in June 1969, previously called the Midsummer Pop Festival, it was held on Midsummer Common in Cambridge. The festival was put on by the Cambridge Arts Lab and The Cambridge Musicians Union. I spoke to Roger Kinsey of Rufas Manning Associates who was instrumental in helping to put the festivals together in 1969/70  and is pioneering the fact it was the world's first free three day festival that had some notable names amongst the performers including David Bowie.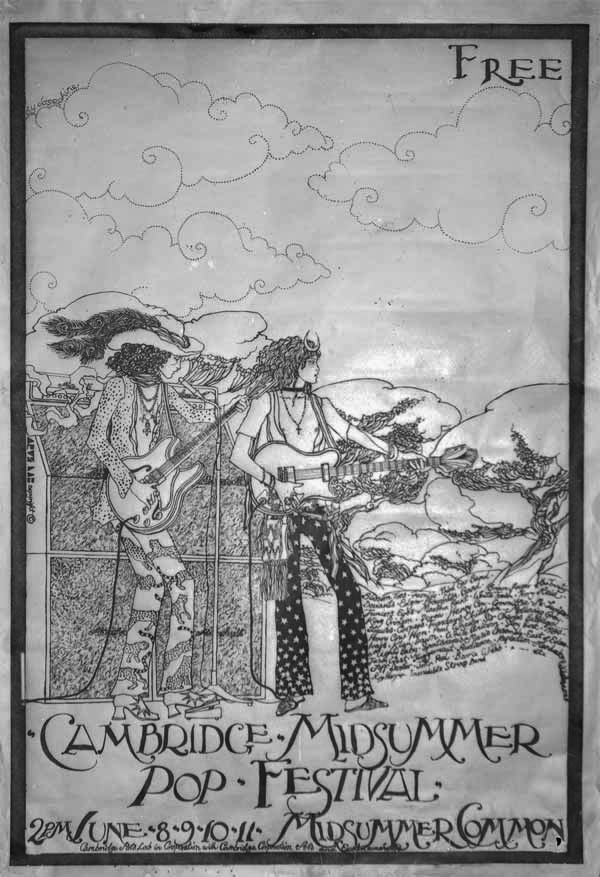 Roger reminisces back to those halycon days of musical chaos, including booking David Bowie for a May Ball, he was booked for a 3 hour cabaret slot at 2am, whilst the students ate, though Roger was instructed to not pay, and to this day never did! Another of King Crimson, who were booked to play but they turned up and their performance was stopped by police. The Edgar Broughton Band were amongst the performers, a political activist band. Roger has a poster depicting a man, butt-naked bending over with a tattoo of Harold Wilson on one cheek and Edward Heath on the other, underneath it read The Edgar Broughton Political Foundation. However, Clem, the fly posting lad refused to fly post them and they were destroyed. Roger has one of the only 3 remaining copies. Check out their track Out Demons Out. 
Czar, formerly known as Tuesday's Children were also in attendance, Roger took along his father's 8mm Cine camera and filmed their performance of Ritual Fire Dance, the only surviving footage of that performance, making history. Roger met with Bob Hodges some years later and gave them a copy of the footage that they have compiled into a short film. You can watch it at https://www.youtube.com/watch?v=paYiIoNLtFM 
Roger is writing a book to commemorate the festival before it is lost to history. As part of his extensive research is seeking any local people who may have relatives, parents, grandparents who may have memories or stories of the festival that can collaborate to Roger's project. You can get in touch with Roger on facebook as Roger Chris Kinsey, look out for the top hat.