Red Rum Club | Hot Milk | Cusp | The Black Prince
Fresh from the Isle of white festival, Cusp, the MK trio played an energetic set, with their latest single Cry certainly getting the crowd going. Liked what you heard? They also played at The Crauford Arms on the 17th October with Northampton favourites Sarpa Salpa and will there again on the 17th November with familiar corby rockers King Purple.
Weird Milk are an exciting London based band, combining sixties influences with modern indie sounds to a unique effect. They caught my attention and I bought thier latest EP featuring Anything You Want and Honey, I'm Around. I hope to see them up here again soon.
Liverpudlian sextet Red Rum Club stood out from the crowd, not only on the night but across the month as well. The band performed at Glastonbury this year and had fans coming all the way from Leicester. Combining sounds of old and new the band channelled Tarantinoesque wild western vibes with the help of a solitary trumpet, played by none other than Joe The Blow, who stole the show, with the audience chanting his name. In catching up with him at the end one can easily see why, a talented musician, with a charismatic charm, he was an all round top bloke, as he filled me in on his foray into music from start to finish. He began playing at school, in the orchestra before giving it up for many years. Later in joining a band at university he was asked if he could still play and it went from there. Please do check out the band's album Matador on Spotify. I treated myself to their single Would You Rather Be Lonely, on transparent red vinyl. The boys even signed it for me as well.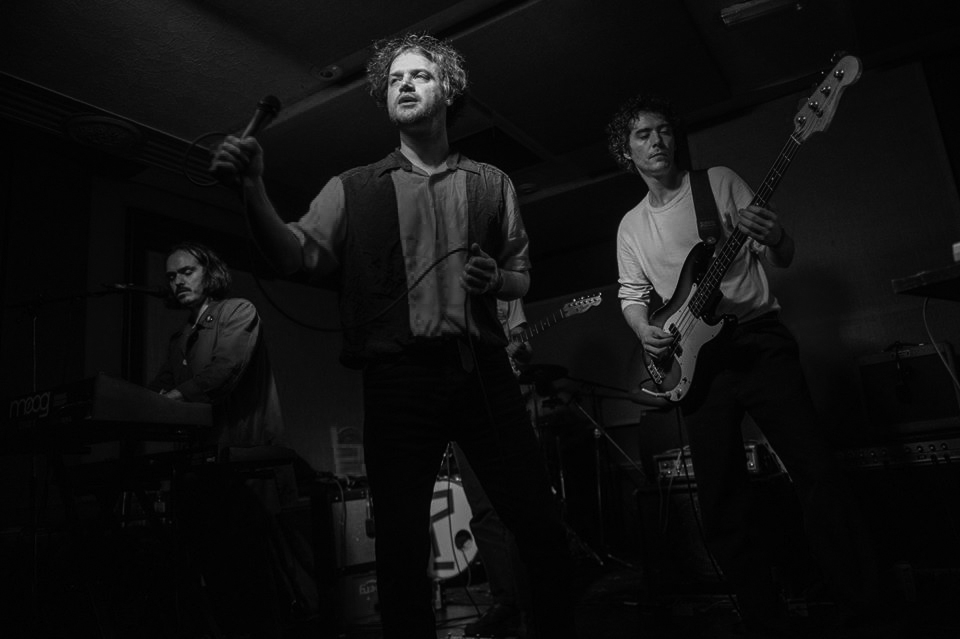 Auld | Naked Nextdoor | Ego | Phobophobes
The night was opened by synth pop trio Auld, their experimental techno vibe was something a little different which worked well when juxtaposed with the fresh indie feel of MK based, Naked Nextdoor, featuring crisp infectious guitar riffs, topped by the unique vocals unique from frontman Euan. Next up were EGO, proving how one should not go by first impressions alone, as what follows is far from what you'd originally expect. A built, suave frontman in preppy dress accompanied by only his long haired, docker wearing sidekick with a fender strat and then he commenced to spit death metal. But that's just Sean, previously of SG Wolfgang, EGO have been described as what it would be like if "Mike Tyson hit an IDLES album into your face and it your ear off". Catch them at this year's King of Hearts Festival, also at the Black Prince. The headliners were touring band, Phobophobes, from London. A big band, by way of sound and numbers, there was certainly a lot going on, vocals, 2 guitarists, bass, drummer and double keys. With their album produced by Youth from Killing Joke and having been played on BBC Radio 6 by the likes of Lauren Laverne, Steve LeMaq and Iggy Pop they were certainly not going to disappoint. And they did not. Taking to the stage with a glass of red wine, frontman Jamie Bardolph Taylor, the embodiment of Ian Dury and Lou Reed reincarnate led his troop impeccably with a sound that can only be described as Velvet Underground on acid…. well more acid.
The Barratts | The Black Prince | By Josh Lister
The popular, indie five-piece, The Barratts were back for a gig at The Garibaldi on the 11th October, after their recent signing to Toura Toura records, and just four days before they were due to support Shaun Ryder in Hull. They were supported by manchurian band Left Hand Lane and Rolling Thunder, with Baby Lung due to play, but having to pull out due to an illness.
A hot and sweaty gig at the Garibaldi, one could have been easily confused into thinking it was a summer evening, and not a cold October night. It was a youthful crowd, with all three bands bringing their own fanbase. Rolling Thunder was a band that I had heard interesting things about, and they definitely got the crowd going with their energetic indie sound reminiscent of Liverpudlian bands, The Wombats, and Circa Waves which for me can only be a good thing.
The Barratts started their set by simply jamming. Both guitarists and the bassist were all just having fun; playing riffs and soloing. It was a joy to watch a band have so much fun, and exuding so much confidence into a performance. The Barratts a band, that clearly love what they are doing and it shows in their performances.
Performing the latest single Lights out in London, and some old favourites such as favourites such as Same Old Kids, The Garrison and Satellites, The Barratts are a band that doesn't disappoint, especially on a small stage, surrounded by their local fans such as in the Garibaldi. In speaking to frontman, James Faulkner, at Twin-Fest back in the summer, he was pleased that the music scene in Northampton was starting to grow and gain more traction.
If you are a fan of bands such as Blossoms, The Libertines and Circa Waves, then I would recommend catching these guys. Up next the band has a couple of dates in London and Manchester – including R fest, all before 2019 comes to an end, but do follow them on social media to find out when the boys will be back in Shoetown. If you do get the chance to see them again, they have started a new merchandise range; with t-shirts, bomber jackets and denim jackets – all with the band's name emblazoned on them. Pretty swag.
It has been a busy year for these guys, after their recent signing to record label Toura Toura, as well as promoting their music to new towns and cities across England, they are one of the top indie/rock bands set to make it out of Northampton in the near future. Who knows what 2020 has in store for them.
Jazz @ The Pomfret Arms
An unexpected jazz encounter at the Pomfret Arms was a welcomed reprieve to the weekend's events. Running through some well known jazz and blues favourites, the Roy Hawksford Quintet were a musical treat, and a fine way to spend a lazy Sunday afternoon. The Nothing Standard jazz residency occurs twice a month at the Pomfret, featuring acclaimed musicians such as Boysey Battrum and other local talent. Look out for the next one.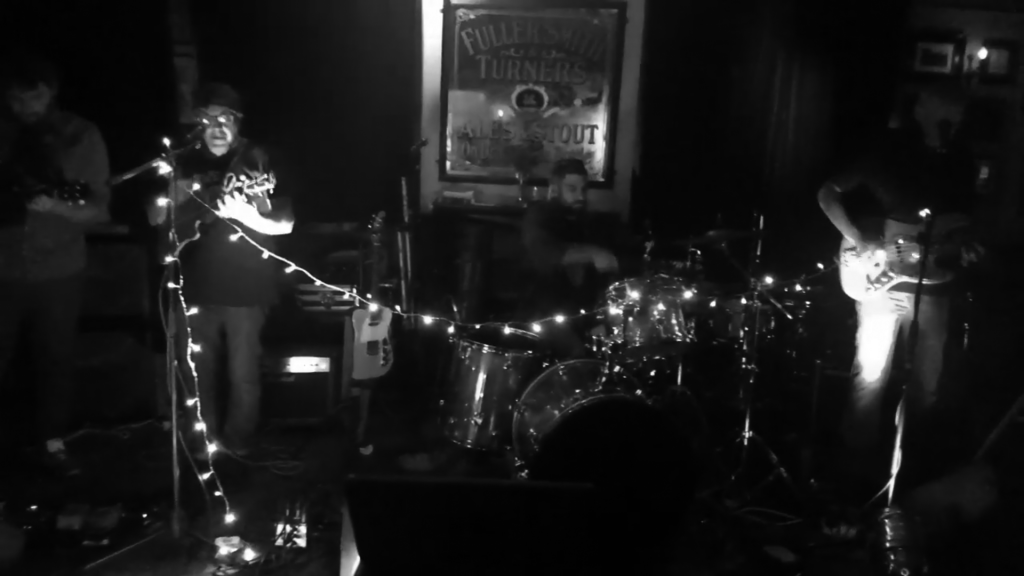 Katie Paton | Kenneth J Nash | Cassini Circles | Jono and The Uke Dealers | Death Alley Drivers | The Lamplighter
Local singer songwriter Katie Paton, also known for P-Hex and Kings Gambit opened the bill with a solo performance of ethereal harmonies entwined with her enchanting vocals. Kenneth J Nash was up next, accompanied this time by his band, for a fuller sound to suit the crowded pub environment of The Lamplighter, always an indulgence, his performance was captivating, his lyrics, rich in imagery, delivered by his velvet smooth voice.
Electric-synth trio, Cassini circles, consisting of Shannon, Jo and Yoshe delivered a unique set of indie/pop inspired electronica, before Jono and the Uke Dealers took to the stage. The uke-driven, feel good quartet delivered their usual jovial performance of old favorites, as well as, their new single 'Buskervite', reflecting on the bands individual issues with homelessness, which was very fitting, in following Kenneth J Nash's, 'The Explorer', focussing on themes of the same nature. In both cases, the profits made will be donated to Musicians against Homelessness.
Fresh from their debut live performance at The Roadmender for The Grey Dog Festival, headliners Death Alley Drivers have been long anticipated since they formed early this year. More a collective than a band, each track features different musicians from around the town and surrounding areas, all headed by Nathan Harris. Such experimental nature and flexibility allows for a depth and a panoramic sound that shows through in the record, with each track very different to the next. Seeing them live they did not disappoint, showcasing the bands versatility and variety.
Lady Nade Safe Place Tour | The Lab | By Josh Lister
Saturday the 26th October was a cold, drizzly and dark day. Many people wanting to go out may have been put off by the dire Autumnal weather, but fortunately, The Lab had Bristol's Lady Nade playing live. Her music was enough to warm anyone even the coldest of hearts that evening. However, the night started with unfortunate news that Northampton's Hana Brooks and Jacob Braithwaite both had to pull out from performing their warm-up sets due to unfortunate and unrelated circumstances. Fortunately, half of the Random Murphy's were available to step-in, and so too was The Lab's very own Kirsty. Both support acts were folk inspired and in keeping with the nights headliner. It was Kirsty's act was particularly special, with a memorable intimacy. She performed songs that were very personal to her and not ones that she would normally play to an audience, even having some audience members in tears.
Just like Kirsty's moving performance, Lady Nade's emotionally charged set was no different. From the first line of the first song, 'Willing', you instantly knew what you were in for. The Lab's promotional leaflet for Lady Nade, had the blurb, 'share a room with her, and she'll give you her story'. This could not have been truer. Every song seemed to take you on a journey through her life, and emotions. Her stories seem to be about past loves and relationships, family members – including her Grandfather who was diagnosed with Alzheimer's and friends , 'Natalie' being one of these. This song is about a time-long friend that went through a tough year, and in her not being able to be there, she wrote a song for her.
A, both interactive and immersive performance, some songs required audience participation, such as 'Looking For Love' (the first song on her album, Safe Place). This required a member that was looking for love to be the centre of her attention during the song. But, perhaps the most interesting thing about this artist is that she has a cookbook that accompanies her music, she has written songs that can be related to a broth or a honeycomb pudding. The only thing that seemed missing from her set was her backing band. Listening to her album, it does give her music more character (as you would expect). But, none-the-less, her one-lady performance was still very strong. Her beautiful, strong soulful voice takes you on a journey like no other. Exactly what you need on a damp, cold night; some hearty music to re-ignite the soul. It is definitely music best listened to whilst at home with friends or a loved one, chilling with a bottle of wine. Real comfort music.
Her album, Safe Place is out now on Mint Lime Records – even her record label is food-related. Hopefully, we'll be seeing this soulful, bluesy Bristolian back in Northampton sometime soon in the near future. Check her out on Spotify, listen out for Sweet Honey Bee and Please You, the video for the former is a particular testament to the track.